---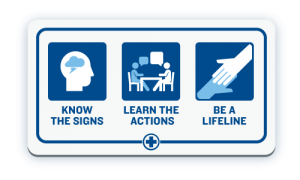 ADULT Mental Health First Aid  
This 8-hour training course is designed to give you key skills to help someone who is developing a mental health problem or is experiencing a mental health crisis.  Just as CPR training helps a layperson without medical training assist an individual following a heart attack, Mental Health First Aid training helps a layperson to identify, understand, and respond to signs of mental health illnesses and addictions.
The evidence behind MHFA demonstrates that it makes people feel more comfortable managing a crisis situation and builds mental health literacy.
**Click on the date of training in the for registration information and location details** No cost to attend!
---
YOUTH Mental Health First Aid


A young person you know could be experiencing a mental health challenge or crisis. You can help them.
You are more likely to encounter someone — friend, family member, student, neighbor, or member of the community — in an emotional or mental crisis than someone having a heart attack. Youth Mental Health First Aid teaches a 5-step action plan to offer initial help to young people showing signs of a mental illness or in a crisis, and connect them with the appropriate professional, peer, social, or self-help care.
Anyone can take the 8-hour Youth Mental Health First Aid course, but it is ideally designed for adults who work with young people, ages 12-18 — teachers, coaches, leaders of faith communities, social workers, and other caring citizens.
**Click on the date of training in the for registration information and location details**   No cost to attend!
CLAS Standards: Culturally and Linguistically Appropriate Services presented by Grace Abbott Training and Supervision Academy and Yiwei Zhang, PhD with the University of Nebraska Omaha.
This valuable training will provide an overview of the CLAS standards, a set of action steps that assist in the elimination of health care disparities, improve quality of care, and advance health equity. The information and strategies shared in this training will assist organizations in meeting legislative, regulatory, and accreditation mandates.
Registration is required. Space is limited. Six sessions to choose from. Sessions are identical. Each session is delivered from 11 A.M. – 1 P.M. (CST)
| | |
| --- | --- |
| Date of Training | Time |
| No Scheduled Trainings at this Time | NA |
---

QPR Gatekeeper Training  (Virtual until further notice)
Various Dates (see list below)
12:00 p.m. – 1:30 p.m.
No cost to attend!
What is QPR? 
QPR stands for Question, Persuade, and Refer —3 simple steps anyone can learn to help save a life from suicide.
The mission of QPR is to save lives and reduce suicidal behaviors by providing innovative, practical and proven suicide prevention training.  QPR will train people to recognize the warning signs of a suicide crisis and how to question, persuade and refer someone to help. We believe that quality education empowers all people, regardless of their background, to make a positive difference in the life of someone they know.
This training is a 1 ½ hour QPR Gatekeeper Training.
What is a Gatekeeper?
According to the Surgeon General's National Strategy for Suicide Prevention (2001), a gatekeeper is someone in a position to recognize a crisis and the warning signs that someone may be contemplating suicide.
Gatekeepers can be anyone, but include parents, friends, neighbors, teachers, ministers, doctors, nurses, office supervisors, squad leaders, foremen, police officers, advisors, caseworkers, firefighters, and many others who are strategically positioned to recognize and refer someone at risk of suicide.
As a QPR-trained Gatekeeper you will learn to:
• Recognize the warning signs of suicide
• Know how to offer hope
• Know how to get help and save a life
To save your spot, please complete the registration for the training you would like to attend by clicking the corresponding date below.
---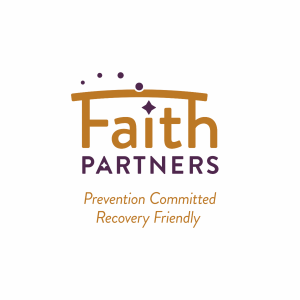 Faith Partners
We help faith congregations develop a team approach to prevention and recovery.
We see congregations across Nebraska that are prevention committed and recovery friendly, playing their full role in prevention and reducing stigma and isolation by openly addressing alcohol, drug and behavioral health issues.
**Click on the date of training in the for registration information and location details**
Faith Partners WRAP Saturday Option:                                      Saturday, May 7, 2022 from 8:30 AM to 5:00 PM CDT
Faith Partners WRAP 2 Friday Afternoons Option:                  Friday, May 6, 2022 at 12:30 PM CDT and Friday, May 20, 2022 at 4:30 PM CDT
Hold Onto Your Hats Learning Event for Faith Partners        Saturday, June 11, 2022 from 9:00 AM to 12:30 PM CDT
Faith Partners Team Training:                                                    Thursday, August 11, 2022 at 6:00 PM  and  Saturday, August 13, 2022 at 4:30 PM
Sign up to be a presenter
If you are interested in presenting material or information that you feel would benefit the behavioral health community, please contact us here.
---
Professional Ethics – Keeping Your Boundaries Clear
June 1, 2018
9:00 a.m. – 11:00 a.m.
Region V Systems
1645 N Street
$20 Network Providers
$25 All Other Attendees
Human services professionals are guided by a code of ethics that protects all stakeholders – client and practitioner. Regularly reflecting on personal and professional boundaries is shown to prevent ethical violations and provide clarity to professional practice, which is especially important in the human services field.
This 2-hour presentation will describe standards of practice and provide an opportunity for professionals to apply the standards in the human services field including substance use disorders, mental health, peer assisted services, and case management. Common problems that interfere with appropriate boundaries will be discussed.
The goal of this training it to engage human services professionals in a discussion of ethical practice to explore personal and professional boundaries.
THIS TRAINING HAS REACHED MAXIMUM CAPACITY. Please check back for future training announcements.
PROBATION AND PROVIDERS: FRIDAY, FEBRUARY 28, 2020
This training is designed to provide knowledge on how Nebraska State Probation, under the Nebraska Supreme Court, assists juveniles and adults in becoming productive members of society and the key role providers play in this process. We will share how Probation assesses criminogenic risk, screens for behavioral health and other needs and develops individualized success plans. This training will also demonstrate how evidence-based approaches guide case management and service referral that reduce criminogenic risk and increase public safety.
Cost: $5.00
---
---
"WRAP® FOR LIFE"
The Consumer/Family Advisory Committee is proud to announce the upcoming "WRAP® for Life" workshops being offered at the VA & The Orchard.
WRAP is a self-determined plan, widely used all over the world both as a preventive strategy and as a way to address all kinds of mental health, physical health, and life issues.  These workshops include Wellness Recovery Action Plans designed to address specific issues such as smoking cessation, weight gain or loss, aging, or diabetes. WRAP for Life teaches you how to adapt WRAP for any issues you wish to address.
Visit the CFAC Workshops and Classes page for more information.