Our Purpose
Region V Systems is responsible for the development and coordination of publicly funded behavioral health services within its service area. Region V Systems:
Performs comprehensive planning activities;
Integrates and coordinates the delivery of services;
Prepares and administers budgets;
Monitors the system's performance; and
Takes corrective action when necessary.
Through these responsibilities, Region V Systems contributes to accomplishing the purpose of the goals of LB 1083, which are to ensure:
The public safety and health of consumers;
Consumer access to services;
Availability of high-quality behavioral health services; and
Cost-effective behavioral health services.
Fiscal Management
Region V Systems is funded in part from the federal Substance Abuse and Mental Health Services Administration (SAMHSA) and the Nebraska Department of Health and Human Services, Division of Behavioral Health (DBH). Fiscal year 23-24 funding includes federal Catalog of Federal Domestic Assistance (CFDA) grant #93.958 and #93.959 ($2,145,582 or 9%), state funding through DBH contract #74077-Y3 ($18,283,827 or 85%), and local county dollars ($1,206,583 or 6%).
Staff conduct contract performance reviews and fiscal audits to confirm compliance with financial requirements of each Region V Systems' contracts. Federal, state, and county funds are allocated to providers and other contractual entities. Region V's Fiscal Management Department provides financial management that ensures the effective use of financial resources, transparency, and accountability.
Geographical Area
Region V is located in southeast Nebraska and covers approximately 9,308 square miles. According to US Census 2008 population estimates, the region has a population of 436,512, constituting approximately 24 percent of the state's population.
Governance Structure
Per Nebraska state statute, each Region is governed by a Regional Governing Board (RGB), which is comprised of an appointed county commissioner from each of the counties it serves. To learn more about the RGB, please click here.
Nebraska Behavioral Health Regions
Region V Systems is one of six Behavioral Health Regions in Nebraska. Each Region is unique, yet all play an important role in the provision of behavioral health services across Nebraska. The Regional system provides an avenue of local participation and local autonomy in the development and delivery of needed services.
The Regions were created by Nebraska's Legislature in 1974 when Nebraska organized a statewide regional system (six regions) to coordinate and oversee the delivery of a full range of behavioral health services to youth and adults. The regions are local units of government that
the state partners with to do planning and service implementation. The regions purchase services from providers in their area. If necessary, services are purchased from other service providers across the state.
DHHS Division of Behavioral Health
The map below shows Nebraska Behavioral Health Regions.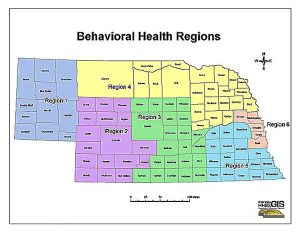 Code of Ethics Policy
Region V Systems believes that operating by a designated Code of Ethics is needed to ensure integrity and credibility and that a written ethics code represents the major philosophical beliefs, principles, and values of the organization. The Code of Ethics shall include identified moral principles of business practices, marketing practices, service delivery, professional conduct, human resources, and potential conflicts of interest as well as procedures for investigating and acting on violations of the Code of Ethics. All personnel, Regional Governing Board members, volunteers, interns, and consultants shall familiarize themselves with the Code of Ethics as it applies to their association or performance of work responsibilities. All persons served in the Family & Youth Investment program shall be provided with Region V's Code of Ethics policy at time of orientation. Click here to view full policy.