NebraskaStrongRecoveryProject.Nebraska.edu

NebraskaStrongRecoveryProject

NebraskaStrong
There are different types of disasters that may hit one community, several communities, or possibly the entire state. A disaster could be a flood, tornado, fire, or a pandemic.
Nebraska Strong Recovery Project, is an outreach program working with individuals, families, and communities that have been impacted by a disaster. Nebraska Strong Recovery Project provides community-based support and education to help Nebraskans cope during the disaster and as they move into the recovery process.
What can Nebraska Strong Recovery Project do:
Provide emotional support.
Offer information and education on stress and coping.
Connect people to resources and to each other.
Give voice to individuals' stories, disaster reactions, and strengths.
Encourage community members to take an active role in their own recovery.
Our Team in Action
Reference Material
COVID Brochure (English)
COVID Brochure (Spanish)
How You Can Help Booklet (English)
How You Can Help Booklet (Spanish)
NE Strong Brochure (English)
NE Strong Brochure (Spanish)
Nebraska Rural Response Hotline
Mon-Fri 8 AM To 5 PM
1-800-464-0258
Nebraska Family Helpline
24 Hours a day/7 days a week
1-888-866-8660
When a disaster hits our area Region V Systems serves 16 counties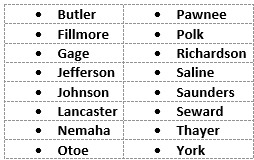 Nebraska Strong is authorized under the Robert T. Stafford Disaster Relief and Emergency Assistance Act (Stafford Act) and funded through the Federal Emergency Management Agency (FEMA). Administered through an interagency Federal partnership between FEMA and the Substance Abuse and Mental Health Services Administration (SAMHSA) Center for Mental Health Services, this project was made possible by the Presidential declaration of disaster and provides individual assistance for short-term behavioral health support, as the disaster response needs are beyond Nebraska's capacity.